The Intersect Aspen art fair returns Tuesday through Friday at the Aspen Ice Garden, bringing 31 galleries from 27 cities across the globe to town for an engaging week of art. 
In its third official year, Intersect Aspen has expanded its cultural programming and deepened its community partnerships to provide a more well-rounded, all-encompassing experience for artists, locals and visitors alike," said Becca Hoffman, managing director for Intersect. 
"Each year we try to get better," Hoffman said. "We try to connect more to the community; we try to have new and dynamic programming that brings people in, that allows our gallerists, collectors, visitors, partners to connect, educate and explore the works of art that our galleries are bringing, and really get to dive deeply into the landscape of the Aspen cultural scene." 
This year's fair boasts 10 new galleries, plus 20 that are returning. Among the new galleries, Hoffman noted that County from Palm Beach will be exhibiting a solo show of Petra Cortright's work.
 An artist working in video, painting and digital media, Cortright "explores the intersection of technology and nature," Hoffman said, stating that she's excited for those works to be seen in the context of Aspen's "natural beauty."  
Hoffman also pointed out that both Harper's and Derek Eller Gallery will be showcasing the work of JJ Manford — an artist who is featured in the Aspen Art Museum's ArtCrush auction — and she said that Todd Merrill Studio from New York is bringing design objects, particularly light art and sculpture, which will be a newer offering of the fair. 
Other highlights include three local galleries returning this year — Casterline|Goodman, Galerie Maximillian and Hexton Gallery. Hexton is currently presenting a solo show with artist Phillip K. Smith III at its Aspen gallery space and will be showing some of Smith's elusive light paintings at its booth in the fair, along with works by other artists.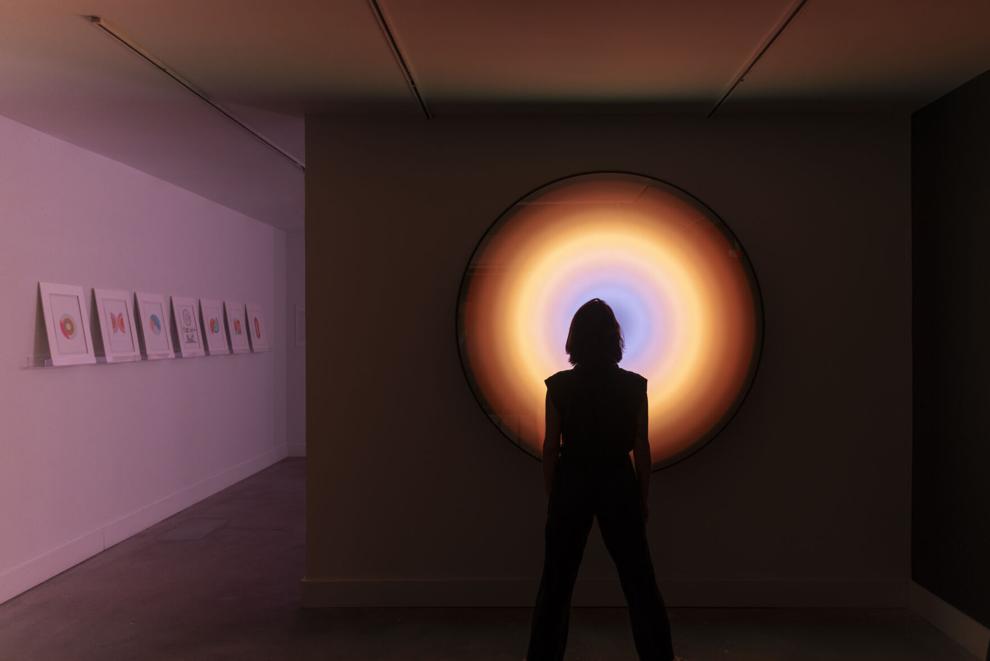 Throughout the week, there will be a handful of talks and events commencing onsite at the Ice Garden, as well as other activations taking place offsite in partnership with local arts and culture organizations. Some events are free and open to all Intersect Aspen ticket holders, while others are limited to VIP and all-access passholders only. 
"Each year, I want more people through the door, I want more people to know about us and I want to support more artistic creation," Hoffman said. "And, you know, it's very important to me and to Intersect to support as many individuals as possible and to support as much creative output as we can." 
When it comes to supporting more creative output, Hoffman highlighted some new initiatives this year, like the Special Projects program — which in addition to the main exhibitors features three art-focused projects created specifically for the fair. 
Among them is the "Micro Mansion" installation created by local artist Chris Erickson as part of the larger Kairos Futura art and activist movement in Aspen this summer. An artistic take on the housing crisis in the Roaring Fork Valley and beyond, Erickson's interactive installation will be stationed outside at the fair entrance throughout the week. 
Upon entering the fair will be a site-specific hanging installation by Ukrainian artist Aljoscha. For this special project Intersect has partnered with the Sunflower Network — a nonprofit focused on providing direct aid to Ukrainians in need and promoting Ukrainian arts and culture amid the war's detrimental effects. 
"This is a site-specific installation that is basically like a vision for the natural world in the future," Hoffman said. "It's kind of like a cloud that you will walk through in the tunnel, so that you're repositioning your head from being outside on the streets of Aspen to coming into an artistic space." 
Lastly, Intersect is collaborating for the first time with local gallerist Skye Weinglass, who will curate a special pop-up edition of her Skye Gallery in the Intersect lounge. 
Attendees have the opportunity to hear from the artists and curators behind these special projects in a discussion on Wednesday from 4-5 p.m. at the Ice Garden. The event is part of Intersect's "Cocktails and Conversation" series — a daily onsite happy hour that will feature guest artists and presenters throughout the week. The happy hour events are open to all Intersect ticket holders. 
"We've always done happy hours, but this year, the happy hours actually have content associated with them," Hoffman said. "So you're not just coming for a drink, you're actually coming to do something, should you have an interest in that." 
In addition to the special projects happy hour on Wednesday, other events in the Cocktails and Conversation series include Tuesday's artist meet and greet with 10 visiting artists offering a chance to learn from them first hand about their work. 
On Thursday, Laura Smith Sweeney, founder of LSS Art Advisory, will be in conversation with Alex Klumb, a principal of CCY Architects, about the intersection of art and architecture and how firms collaborate with clients to craft spaces that celebrate art in the home. 
Also on Thursday, and new to the fair this year, is the Intersect Art and Wine event from 4-7 p.m. at the Ice Garden. Intersect has partnered with several restaurants and hospitality figures in Aspen to present a curated wine tasting experience for VIP and all-access pass holders. 
Throughout the evening, the featured sommeliers — Jared Hill from Cache Cache, Maddy Jimerson from Casa Tua and Chris Dunaway from The Little Nell — will each share a themed tasting presentation around wines they've selected from Aspen's Of Grape and Grain store. Other industry guests and wine experts will be there to further educate attendees on investing in wine and creating a collection, Hoffman said. 
"One of the things that we've done this year is expand outward to try and bring in not just the cultural landscape, but the hospitality and the restaurants in Aspen to allow for our visitors a well-rounded experience," Hoffman said. "And so, in expanding outward and creating a 360-degree event that stimulates all of the senses, we think this will be a really nice opportunity to have a glass of wine and explore the fair, and it's not just a straightforward wine tasting at an art fair, it also educates in different ways as well."
In terms of the cultural sphere, Intersect has renewed its partnerships again this year with organizations like Anderson Ranch Arts Center, Aspen Film, Aspen Chamber and Resort Association and the Red Brick Center for the Arts, for some of its off-site offerings. 
Prior to the fair opening its doors to the public Tuesday morning, Intersect VIPs are invited Monday afternoon to the Anderson Ranch campus in Snowmass for a private tour, followed by a studio visit with acclaimed artist Meleko Mokgosi.
Intersect and Aspen Film are collaborating with The Artist Profile Archive — which is an online multimedia platform that produces short-form documentaries on contemporary artists — to present a screening and discussion on Wednesday from 5:30-6:30 p.m. at the Aspen Film Isis Theatre.
Titled "The Use of Photography and Representation of The Self," the event will feature The Artist Profile Archive's films on artists Sheree Hovsepian and Letha Wilson. Screenings will be followed by a conversation with the artists and Sophie Chahinian, who is the founder of The Artist Profile Archive. The event is free and open to all Intersect passholders. 
Another free and open-to-the-public event is the Midsummer Cultural Celebration that Intersect will put on in partnership with ACRA and the Red Brick. Taking place Thursday from 4-7 p.m. at the Red Brick, the community event will feature music, performances, art demonstrations, refreshments and more. 
Intersect also is partnering with the Aspen Art Museum for its third annual "Collector at Home" series, which Hoffman said is an opportunity for VIP patrons of the fair to "go behind the closed doors of some of Aspen's most spectacular homes" to see the intersection of art and design on display. 
Additionally, Intersect VIPs will have the opportunity to participate in a director-led tour of the museum on Monday morning. AAM Director Nicola Lees and Director of Curatorial Affairs Daniel Merritt will guide guests through the museum's current exhibitions and share highlights from this year's ArtCrush auction. 
In its third edition, Intersect continues to grow and build community through its programming and partnerships, while standing as a more intimate and manageable art fair experience, Hoffman said. 
"One of the nice things about the scale of our fair in Aspen is that it's manageable," Hoffman said. "You can digest all of the art that's on view, you can interact with the gallerists, you can interact with the artists." 
"And in the context of our week, you can get to know local cultural organizations," Hoffman continued, "you can go to a film screening, you can get a director-led tour of the museum, you can walk into collectors' homes, you can participate in conversations — whether you're an amateur or a seasoned collector, there's something really for everyone." 
Intersect Aspen will take place Tuesday-Friday at the Aspen Ice Garden. Passes start at $25 (single day); the cost of an all-access pass is $100. For more information or to purchase tickets, visit intersectaspen.com.